Telephone Information Recorder
Finally! -- A five hour telephone recorder and Caller ID in one Displays the telephone number and name of person calling
The Telephone Information Recorder represents the ultimate in telephone recording capability. Not only does this sleek unit clearly record both sides of a telephone conversation, while capturing and displaying all dialed telephone numbers, but it also identifies the name and number of the party calling you!╣ Automatic recording enables the unit to start only when the phone is in use. The built-in LCD display panel displays all data; caller's name, incoming and outgoing dialed telephone numbers, as well as, the date and time of the call! This innovative model features two-speed recording.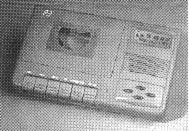 Call Toll FREE @ 1-800-441-1110 for latest quote!
Or send an email to hitechunlimited@yahoo.com
(please specify product and include your contact information)
There is also a switchable voice-control mode to eliminate silent periods on the tape to attain the maximum recording time. The P5070 will decode tone or pulse signals.
Provides full information on telephone calls
Time, Date, Incoming and Outgoing dialed numbers
Calling party name display▓
2 Speeds for maximum recording time
Voice Control eliminates silent intervals
LCD display
SPECIFICATIONS:
Power .............6V DC
Battery ............4 X AA alkaline batteries
Weight ............1 lb. 10 oz.
Dimensions ....7 1/2" x 5" x 2"
Tape Speeds..4.8 cm/sec., 1.7 cm/sec.
USOC .............RJ11
This feature requires Caller ID service as provided by telephone company.
Requires name and number Caller ID service.
It is the user's responsibility to ensure that conversations are only recorded in accordance with the law of the jurisdiction where the equipment is utilized.
Specifications subject to change without notice.