6 Hours Micro Cassette Phone Recorder
Are you tired of having an important telephone conversations and forgetting an important piece of information after you hand up the phone? Do you long to be able to remember the exact wording that was said during business calls or those precious moments said between you and your loved ones? Then you need the power and the versatility of the RN 404 telephone recorder.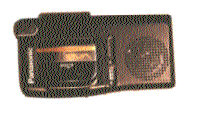 Call Toll FREE @ 1-800-441-1110 for latest quote!
Or send an email to hitechunlimited@yahoo.com
(please specify product and include your contact information)
FEATURES:
6 hours of recording time on a 90 minute micro cassette tape.
Quality recording so you can understand every word.
Voice activation so you never miss a word.
Small and compact so it can be carried in a pocket with ease.
Comes with everything needed to hook up to your telephone line.
3 year limited warranty.
SPECIFICATIONS:
Power requirements: 3 v[Two "AA" size, (R6/LR6) batteries] not included} or optional Panasonic AC adapter/charger (RP-BC124PY)
Speaker: 3.6 cm (1-7/16")
Dimensions: (WxHxD) 58 x 117 x 23.7mm
Input: MIC; 0.25 mV DC IN 3V; MIC Jack
Output: Monitor Jack
Track System: 2 track monaural recording and playback
Playtime: [at 25 degrees C (77 degrees F) temperature and on a flat, stable surface]. Recording lasts about 13 hours 30 minutes and playback, about 9 hours. *The play time may be less depending on the operating conditions.