Telephone Recorder Interface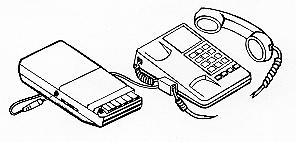 Call Toll FREE @ 1-800-441-1110 for latest quote!
Or send an email to hitechunlimited@yahoo.com
(please specify product and include your contact information)
The TRX-20 telephone record unit adapts a dictating machine or tape recorder to both single or multi-line telephones.
The TRX-20 is compatible with all modular type telephones.
The unit is installed in a matter of minutes by merely "plugging" in the unit as described in the diagram below.
The TRX-20 clearly records both ends of a phone conversation on any mini, micro or 'C' cassette recorder.
Ideal for Recording:
Important Business Calls
Price Quotations
Engineering Specifications
Conference Calls
Dictation to Your Secretary While Traveling
Insurance Claims
Long Distance Calls - Domestic - International
Medical Discussions
Stock Quotations
Legal Matters