Protec
This personal protector provides you round-the-clock protection anytime, anywhere.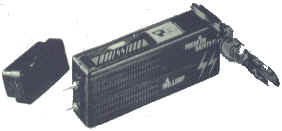 Call Toll FREE @ 1-800-441-1110 for latest quote!
Or send an email to hitechunlimited@yahoo.com
(please specify product and include your contact information)
SPECIFICATIONS:
Power Consumption: Two (2) DC3V #5 batteries
Maximum Voltage: 400V
Maximum Current: 75A
Recharge Time: 0.5 sec. to 3 sec.
Operating Current: 3mA to 5mA
Operating Temperature: -10°C to 40°C
Battery Life: 500 activations
Dimensions: 8.5 x 3 x 1.5mm
FEATURES:
Superior Protection
The PRO-TEC provides fast and powerful protection. When activated, it releases a strong electric current -- 400V/76A -- in 0.01 sec.
It comes with two 5mm electric pins which can penetrate through clothing and deliver a sharp current of energy to stun burglars or wild animals, thereby giving users an opportunity to escape.
Takes only 0.5 sec. to recharge and it's ready for use again.
Portable and Convenient
Small and compact, the PRO-TEC is about half the size of a cigarette pack and easily fits in a pocket or handbag.
High Security
The electric pins have a protective cover to prevent users from hurting themselves when the unit is placed inside a pocket or handbag.
In case of attack, the protective cover automatically recoils upon contact, revealing the 2 electric pins and delivering a sharp electric shock.
Attached to the key ring is a hidden safety latch which prevents users from getting stunned when the switch is accidentally activated.
The PRO-TEC only delivers a sharp, dizzying pain; it does not result in serious injury.
Easy to Maintain
Two #5 batteries for 500 activations.
NOTE: When testing the unit, avoid contact with human body to prevent injury.
---