If you prefer the road less traveled. . .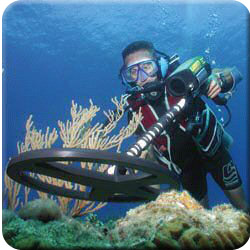 then the Infinium LS is the detector for you. Whether it's 200 feet below the sea or on top of the snow-peaked mountain, the Infinium LS pushes ahead in those rugged, mineralized conditions where other detectors crumble.
Looking for gold in Australia or Arizona? Searching volcanic rockslides of the Pacific Northwest or the black-sand beaches along Italy's coast? Then take the Infinium LS ("land and sea" model). The waterproof design of this versatile machine makes it the first metal detector highly recommended for both land detecting and underwater diving.
---
Features:

All Metal Deepseeking Mode
Audio Threshold, Adjustable
Audio Tone ID
Discrimination, Full Range (PI)

Frequency, Adjustable
Ground Balance, Automatic Ground Tracking
Hip Mount Control Box

Microprocessor Controlled
Salt Elimination Mode (PI)
Surface Mount PC Board Technology

Specifications:

Length: 28" to 52" - Adjustable
Weight: 5.5 lbs. (2.5 kgs.)
Circuit type: Advanced Pulse Induction technology, automatic cancellation of salt/ground mineralization
Multiple Frequency Technology - 96 Frequencies
Detection Frequency: 730 pulses per second, adjustable
Submersion depth: Up to 200 feet (65 meters)
Buoyancy: Near neutral
Batteries: 8 AA
Battery life: Alkaline (included): 10-15 hours Rechargeable (included) 7-10 hours
Battery re-charger for AC and Automobile (included)
Control housing weight: 31 oz.
Headphones: 16 oz.

Search Modes:

Non-Motion All Metal with Adjustable PI discrimination

Settings:

Ground Tracking Speed
Discrimination
Threshold
Volume Control on Land Headphones
Detection Frequency
---