AT&T 4-Line Speaker Phone/ Digital Answerer w/ caller ID/Call Waiting 964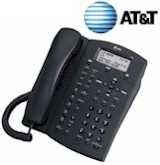 You can use up to 12 phones in a system, with one to four lines. Installation is fast and easy, and you can use either loop-through or home-run wiring. Very useful Automated Attendant feature: "press one for sales, press two for service," or "press one for Sally, press two for Steve."

Each 964 has its own private answering system, which works like a personal voice mail box. 25 Minutes digital recording time. Duplex speakerphone for high-quality hands-free conversations. Caller ID on Call Waiting. 200 Name/Number Caller ID history. Headset jack.
---