Brother Business Class Typewriter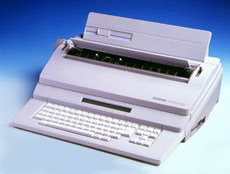 Description:

A compact but truly professional office typewriter designed to thrive on a busy workload. Offering many of the features found on heavier duty machines. Now writing good looking documents, correcting and printing are all quick and simple with the BrotherEM-630, making it ideal for the general office. Quality presentation is always important with the range of auto features ie. Underlining, Bold, Centering etc, all your documents can look their best.
PROFESSIONAL TOUCH KEYBOARD
This innovative electronic typewriter is designed for today's business professional. It has the speed, accuracy, versatility and error-correction capabilities to let you do more work, more accurately. And the ergonomically laid out keyboard practically does the work for you. It's built with everything you need...and it's built to last.
80 CHARACTER LCD DISPLAY
40 character by 2 line LCD display plus 32Kstorage memory lets you type, store, recall, edit and print out.
STANDARD 3.5" 720KB FLOPPY DISK DRIVE
Provides unlimited memory. Allows transfer of ASCII files to and form PC's.
TOTAL CORRECTION SYSTEM
Automatic "Word-Out", "Line-Out" and Full LineLift-Off Correction Memory allows you to remove a single character,word or complete line at the touch of a key.
SPELL CHECKER
Built-in corrector dictionary, programmableuser dictionary and redundancy check alerts you to spelling andtyping errors and offers suggestions for corrections.
Features:
DOCUMENT FEATURES
Easy to read 40 character by 2 line display
32,000 character storage memory
Standard 720KB floppy disk drive provides unlimited memoryand it allows transfer of ASCII files to and from PC's
Search and Replace
Block Move/copy/delete
Abbreviated phrase memory
Justification
Copy text between files
Insert/Overwrite
"Go-To" key lets you move instantly to any page in a file
Header and Footer
Hyphen Scan
File renaming
Paper size set
Automatic word wrap moves text from line to line to properlyfit between the margins
Stop code
Single page printing
File printing
Line-by-line printing
FORMATTING FEATURES
Automatic continuous and word-by-word underlining
Bold Typing
Caps Lock key for typing capital letters and numbers withouttouching the shift key.
Automatic centering
Decimal tabulation
Expanded typing
Right margin flush
Super and subscript
Line and paragraph indent
QUALITY FEATURES
Automatic carriage return
Automatic paper insertion
Standard, international and symbol keyboard selections
Auto repeat for all characters and functions
5 line format memories
Backspace and express backspace
Micro 1/120" spacing and backspacing
Forward and reverse indexing
Micro forward and reverse indexing
Line start/end setting
30 tab positions
Automatic tab set and clear key
Self-demo automatically demonstrates all the features andfunctions
Paper supporter
Multi-lingual keyboard selector
Menu operation
LINGUISTIC FEATURES
Built-in spelling corrector dictionary plus user programmablewords alerts you to spelling mistakes and offers suggestions forcorrection.
Redundancy Check signals if a word is typed twice evenif the second word begins on the next line
SPECIAL FEATURES
Variable Hot Zone
Form Typing allows you to set up templates to speed typingof forms that are filled out repeatedly
Text framing adds emphasis to important words or thoughts
CORRECTION FEATURES
Full line lift-off correction memory
Automatic "Word-Out" and "Line-Out" correction system forerasing a single word or complete line