Garrett GTAx 1250 "A Mid-Range Detector w/ Digital Signal Processing"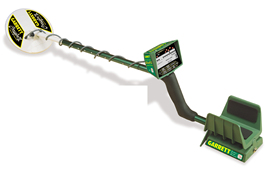 Cutting-edge simplicity
For treasure hunters on a budget who are looking for high performance with easy operation, nothing beats the high-tech simplicity of a GTAx. The cornerstone of the GTAx series is Garrett's patented, microprocessor-driven Graphic Target Analyzer (GTA). The GTA revolutionized the hobby almost a decade ago when it became first mid-range detector to pinpoint a target's probable identity and provide an ongoing display of vital operating information.
The GTAx 1250 is the series' star player, best known for its top-of-the-line features from the GTI series. The GTAx 1250 is ideal for the experienced treasure hunter looking for the microprocessor power and depth capabilities of high-end models at a mid-range price. The GTAx 1250 boasts its very own Power Mastercircuitry with Onboard DSP, a GTA cursor scale revealing coin depth, target conductivity, and notch discrimination at a glance, as well as Scan Track for the freedom to hunt as fast or slow as you please without missing good targets.
---