Garrett's Scorpion Gold Stinger "The Truly Versatile Gold Hunter"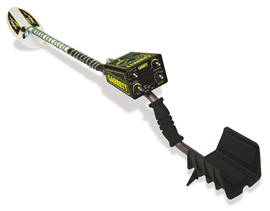 No other gold-hunting detector can match the three-mode versatility offered by the Garrett's Scorpion Gold Stinger™. Just a flip of a switch is all it takes to change from Non-Motion All-Metal operation to Motion Discriminate and search for coins. Flip the switch again for true TR discrimination in order to accurately identify conductive ore. The Stinger's famous Groundhog (15kHz) circuitry is reputed for its extraordinary power to penetrate ground minerals in order to zero in on nuggets, placer, float and ore veins. The Gold Stingers maneuvers remarkably well over complex ground conditions and in narrow cracks and fissures when nugget and placer searching.
The Stinger's elliptical searchcoil can detect even the tiniest gold nuggets and flakes and can be switched for the larger 5x10" coil when searching for nuggets, veins, floater, and wet and dry placer at extreme depths. Not even iron rocks, Fool's gold, non-conductive specimens or low-grade silver ore, can fool the Scorpion Gold Stinger, the gold detector that's truly in a class by itself.
---