Sanyo Standard Cassette Transcriber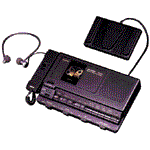 SANYO TRC8800 - Standard Cass Transcriber A standard cass transcriber with hand mike & more.

*Hand mike. *Index/cue tone Switch . *Auto cue tone search . *Foot control. *Conference & phone record . *Quick erase. *Adjustable playback speed. *End of tape warn . *Tape counter *Includes: mike, AC adapter, foot control, & headset .