Beautifully Restored Turn of the Century Victorian Mansion!
451 N. Evelyn ave 1 block South of E. Belmont, 3 blocks west of Clovis Blvd. A very nice area with large lots in Sunnyside. Fwy 180 is 5 blocks away, be anywhere in Fresno in minutes!
A new River park type Mall/Shopping Center Complex has broken ground just a few blocks away. This will be a thriving Highly desireable area soon.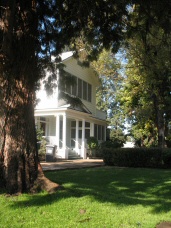 Click the picture for more information on this property.
The Pictures on the Main Page have been updated as of 9/13/08.
This is a one of a kind !! Additional improvements to be made soon. Price will go up to reflect those improvements.
Sale or Trade price $229,950 Owner May Carry with $100,000 Down. We have lowered the price to the absolute lowest price. This is a ridiculously low price for an Incredible Home.
This house is currently available for rent for $1695 per month+.